Underarm hair removal can be carried out quickly and painlessly with an alexandrite laser.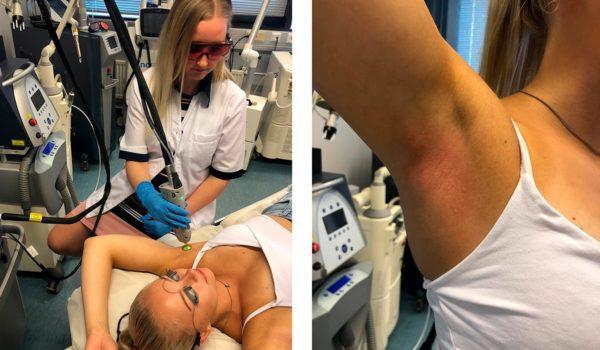 Our customer Wilma, whose hobbies include bikini fitness, wanted help with underarm hair management. Wilma underwent underarm alexandrite laser treatment, which allows the skin to remain almost hair-free for a long time. This is how Wilma commented on her experiences on her blog after her first treatment session:
I realised that already this first session had had a major impact! The need to shave has significantly reduced because hair growth has slowed down a lot. The treatment was completely painless, and it was over quickly. The treatment took no longer than ten minutes, and I didn't feel any pain. Some pinching sensations here and there, but personally, laser treatment did not cause me any pain. After the laser treatment, my skin was slightly red, but I didn't realise anything abnormal."
Although Wilma obtained results after just one treatment session, treatment series with an alexandrite laser usually cover 4-6 treatment sessions, which result in almost hair-free skin. The achieved treatment results can be maintained with an annual maintenance treatment session.