The effective fractional CO2 laser treatment offers visible results with just one treatment session in loose skin treatment.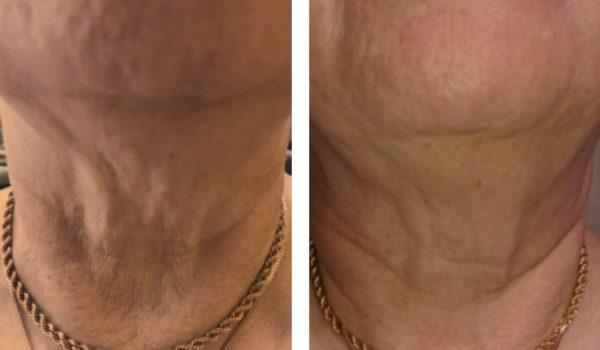 Our pension-aged customer asked for help treating the loose skin and wrinkles in her face and neck area. After administering anaesthetic cream, she underwent effective fractional CO2 laser treatment of the entire face and neck area. The treatment was felt as a pinching sensation on the skin, but no actual pain occurred. Despite the high treatment intensity, the scabs healed in less than a week.
The patient was extremely satisfied with the results of the one-off treatment session. The patient's daughter was also so impressed with the results that she attended a similar treatment too! A series of 3-5 treatment sessions is recommended for anti-ageing and scar treatments, but even one treatment session can achieve visible results.
The following images show the situation before the fractional CO2 laser treatment and 6 months post-treatment.