Excellent end results in the removal of multicoloured tattoos.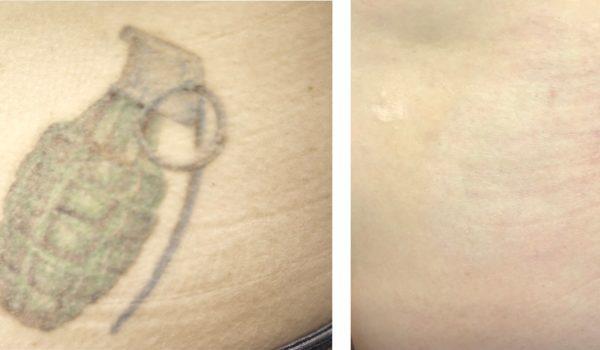 Our customer had approximately five-year-old professional tattoos on her hip and buttocks. Blue, green and black tones had been used in the buttocks tattoo. Black, brown and white had been used in the hip tattoo. The patient had undergone five nd:YAG treatment sessions elsewhere, and the colours had slightly faded. However, the white colour had darkened in places due to the laser treatment, which is normal.
We started the removal process using the FracTat method, i.e. fractional CO2 laser treatment and Q-switched ruby laser treatment were carried out during the same session. The hip tattoo disappeared almost entirely with three, and the buttocks tattoo with four FractTat treatment sessions. All in all, eight FracTat treatment sessions were carried out to remove all the colour. The treatment reactions healed quickly, and the aesthetic results were excellent. The Q-switched ruby laser is an excellent choice for removing black and blue colour, and it is also very effective on green and brown.